Remembering 'Moose' Skowron
One of the joys about co-hosting "Sports & Torts" with attorney David Spada on talkzone.com (Thursdays at noon) — other than the fetching females who appear on the show — is the opportunity to talk with people who used to be athletes, coaches, managers, etc.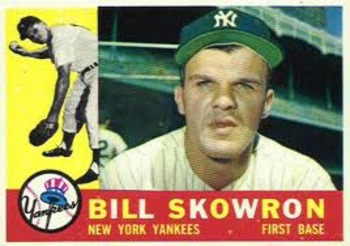 No matter how long ago they may have been active in the sports arena, time does not diminish their stories — and occasionally it might even enhance them. And what wonderful stories many of the interview subjects have.
A perfect example was Bill "Moose" Skowron. The Chicago native and onetime Purdue football player who was part of the great New York Yankees teams of the 1950s as the first baseman died Friday (April 27) from congestive heart failure in Arlington Heights, Ill. He was 81.
Moose (something says he wouldn't feel right about people calling him "Mr. Skowron," even in an obituary-like mention) was a delight to be around and was a frequent presence at Chicago White Sox games. A former Sox player, Moose had remarkable recall of events 50-plus years ago and always was willing to share his stories. More than that, he could make a newcomer to his circle of listeners feel like an old friend.
"He was a wonderful storyteller and an important link to a great era in baseball history," commissioner Bud Selig said.
"There weren't many better guys than Moose," Yankees legend and former teammate Yogi Berra said. "He was a dear friend and a great team man. A damned good ballplayer, too."
"We all have lost a dear, dear friend today," White Sox chairman Jerry Reinsdorf said. "While Moose may have become a star in New York with the Yankees, he was a Chicagoan through and through. I certainly will miss his priceless stories about Casey Stengel, Roger Maris, Hank Bauer and of course, his good friend, Mickey Mantle.
"A few years ago, we started a tradition of holding monthly lunches here at the ballpark, and the laughter and conversation always centered around Moose. My guess is that right now Mickey, Roger, Hank and Moose are enjoying a good laugh together."
Here is Moose from his "Sports & Torts" interview:
***
The Chicago Bulls scored their first postseason victory on Friday. And their first-round series against the Philadelphia 76ers doesn't begin until Saturday at noon at the United Center. Of course, the triumph doesn't put them a step closer to capturing the 2012 NBA title.
What happened was teams that finished tied with identical records had the ties broken by random drawings in New York. The Bulls (50-16) beat out the San Antonio Spurs (also 50-16) for the No. 29 draft pick in the first round of the 2012 draft to be held June 29 in Newark, N.J.
The results of the drawings:
* Cleveland (21-45) won a tiebreaker with New Orleans.
* Sacramento (22-44) won a tiebreaker with New Jersey.
* Golden State (23-43) won a tiebreaker with Toronto.
* New York (36-30) won a tiebreaker with Dallas; and Dallas won a tiebreaker with Utah.
* Los Angeles Clippers (40-26) won a tiebreaker with Atlanta.
* Los Angeles Lakers (41-25) won a tiebreaker with Memphis.
* Chicago (50-16) won a tiebreaker with San Antonio.
Meaning this is the order for the draft and the draft lottery (to be held May 30):
The teams entered in the lottery, to be held on May 30, 2012, are as follows (note: the first three picks in the Draft will be determined by the lottery and the remainder of the "lottery teams" will select in positions 4 through 14 in inverse order of their consolidated standings at the end of the regular season):
TEAM: LOTTERY CHANCES (out of 1,000)
Charlotte (7-59): 250
Washington (20-46): 199
Cleveland (21-45): 138
New Orleans (21-45): 137
Sacramento (22-44): 76
New Jersey* (22-44): 75
Golden State# (23-43): 36
Toronto (23-43): 35
Detroit (25-41: 17
Minnesota (to New Orleans via L.A. Clippers) (26-40): 11
Portland (28-38): 8
Milwaukee (31-35): 7
Phoenix (33-33): 6
Houston (34-32): 5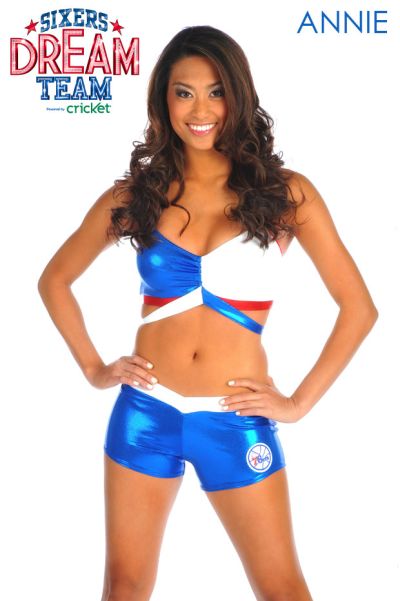 Well, we need something to break up all this type, so the editorial staff at elliottharris.com was thinking (rare as that might be) that some video featuring the Sixers Dream Team dancers might work. You can click here to see if you think that works. In case this accompanying photo is insufficient.
OK, we now return to our regularly scheduled draft order:
Order for the rest of the first round:
15. Philadelphia (35-31)
16. New York (to Houston) (36-30)
17. Dallas (36-30)
18. Utah (to Minnesota) (36-30)
19. Orlando (37-29)
20. Denver (38-28)
21. Boston (39-27)
22. Los Angeles Clippers (to Boston via Oklahoma City) (40-26)
23. Atlanta (40-26)
24. Los Angeles Lakers (to Cleveland) (41-25)
25. Memphis (41-25)
26. Indiana (42-24)
27. Miami (46-20)
28. Oklahoma City (47-19)
29. Chicago (50-16)
30. San Antonio (to Golden State) (50-16)
* This pick may be conveyed to Portland.
# This pick may be conveyed to Utah via New Jersey.
***
Advertising opportunities are available on ElliottHarris.com. For information and rates, contact sales@elliottharris.com.