2 White Sox, 1 Cub in 'Baseball Tonight' Top 25
Midweek musings: For what it's worth, ESPN's "Baseball Tonight" unveiled its list of top 25 major-league players Tuesday night. Both the White Sox (four players) and Cubs (two players) were represented — even if three of them hadn't played a game for their current team. Sox left-hander Chris Sale was No. 7, Sox first baseman Jose Abreu No. 12 and Cubs left-hander Jon Lester No. 21. Elsewhere in the top 100: Cubs first baseman Anthony Rizzo No. 37, Sox closer David Robertson No. 65 and Sox right-hander Jeff Samardzija No. 69. Los Angeles Angels outfielder Mike Trout was No. 1 and Los Angeles Dodgers left-hander Clayton Kershaw No. 2. If it will make Cubs fans feel any better, the St. Louis Cardinals had only one player (catcher Yadier Molina at No. 23) in the top 25.
* The Cubs defeated the Texas Rangers 15-10 in a Cactus League game. An indication that they really are missing Kris Bryant's bat after the future Hall of Famer's temporary demotion to the minor leagues. Or maybe merely an indication of some bad Rangers relief pitching.
* Speaking of the Cubs, they actually had an eight-run ninth to rally for the victory. The chances of the team having an eight-run, ninth-inning rally during the regular season would seem slimmer than having Wrigley Field totally ready for Sunday night's season opener.
* Still speaking of the Cubs, they started Welington Castillo for the second consecutive game in an apparent effort to increase his trade value (which apparently is nothing or he would be gone by now). He went 0-for-3 with a strikeout. At this point, the Cubs' best hope is for a team lacking in catching to have an injury at that position. Patience, Cubs fans, patience.
* Speaking of catchers, former Cubs catcher Geovany Soto (the 2008 National League rookie of the year as a Cub) received news he would be on the Sox' Opening Day roster. He celebrated by throwing out three runners in a 2-1 victory against the Dodgers. The aforementioned Abreu (see today's first paragraph) went 4-for-4 to raise his average to .519. No, Cactus League numbers do not mean a whole lot — unless you want them to.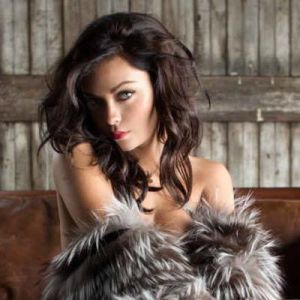 * If things go according to plan (and occasionally they actually do), the guests on this week's "Sports & Torts" will be April 2015 Playboy Playmate Alexandra Tyler (pictured to the right) and former big-league baseball standout Fred Lynn. The interview show, co-hosted by David Spada and Elliott Harris, airs on Thursdays at noon Central time on Talkzone.com. The highly acclaimed program (held in such esteem in the Spada and Harris households as well as reportedly elsewhere) will have this week's episode available later in the day Thursday (and presumably for a long, long time thereafter). And for those folks who think that a mention has been made merely to justify running a photo and video of Alexandra, that's your prerogative. Oh, and a reminder for those with that mindset: We do not need justification for running what we do (one of the benefits of running your own web site).
***
***
Advertising opportunities are available on ElliottHarris.com. For information and rates, contact sales@ElliottHarris.com.