Jaime Edmondson's Week 17 NFL Picks & Pics (updated)
Out of consideration for those who might have stayed up later than usual on New Year's Eve (or for those who might need a little longer than usual to recover from the aforementioned evening), you would think the NFL might start its noon games an hour or so later than it does the rest of the season.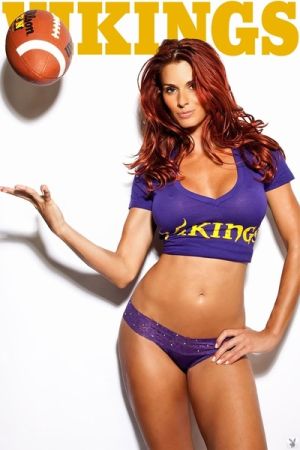 And you'd be wrong.
Same as ever, the NFL noon games (1 p.m. Eastern) started on schedule. Even more incredible is seeing Jaime Edmondson post her picks and pics in a timely fashion. The Playboy Playmate came through in typical fashion. Which is more than some of the rest of us can say.
You can follow Jaime (and her picks, etc.) on Twitter at jaimeedmondson. She also has her NFL photos available for sale on her Internet site at jaimeedmondson.net.
What we can say is we finally are posting her pigskin picks for the early games. For those disinclined to learn her selections via photographs (there possibly may be someone somewhere who fits that description), her picks:
Philadelphia over Washington, New England over Buffalo, San Francisco over St. Louis, Houston over Tennessee, Minnesota over Chicago, Detroit over Green Bay, Indianapolis over Jacksonville, Carolina over New Orleans and Miami over New York Jets.
What is notable about those picks is Jaime finally selected the Colts for the first time this season. She also did not pick the Packers (OK, they're not playing Aaron Rodgers). And, as always, former Dolphins cheerleader Jaime chooses the Dolphins to prevail.
Because Jaime is headed to Arizona for the Fiesta Bowl, she posted her late-game picks early. Which means — if the editorial staff at elliottharris.com can get its act together (and, as those familiar with this site know that's a big "if"), her late-game picks will be here before those games actually kick off. Possibly even while the early games are going on.
Her late picks: Cincinnati over Baltimore, Atlanta over Tampa Bay, Seattle over Arizona, Pittsburgh over Cleveland, Denver over Kansas City and Oakland over San Diego.
Fo the night game that decides which of the two teams goes to the postseason and which goes home (or wherever they might go — maybe Vegas???), Jaime has the New York Giants over Dallas.
Enough of this verbiage. Let's see the pictorial prognostications for the last week of the regular season: